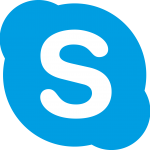 Technical Information Of Skype App:
Application
Skype
Author
Priit Kasesalu

Jaan Tallinn

Developer
Skype technologies
Initially Released On
29 August 2003
Windows UWP stable version
15.66.74.0
Windows UWP stable version released on
2 November 2020
macOS stable version
8.66.0.74
macOS stable version released on
2 November 2020
Windows desktop stable version
8.66.0.77
macOS stable version released on
13 November 2020
Linux stable version
8.66.0.74
Linux stable version released on
2 November 2020
Android stable version
8.66.0.76
Android stable version released on
2 November 2020
iOS stable version
8.66.0.76
iOS stable version released on
2 November 2020
Compatible With
Windows, macOS, Linux, Android, iOS, Windows, Hololens, Xbox One
Available in
108 languages
Type of application
Video conferencing, VoIP and instant messaging
Languages Used
Delphi, Objective C, C++
License
Freemium
Website
www.skype.com
Download
Skype application is a free software program that allows you to make video and audio calls peer-to-peer or in groups. With Skype, you would convert, from the entire world.
Till you have an internet connection, you can use Skype to chat with one or more people face-to-face.
The application offers you with a paid subscription tier, that let users do even more actions, like sending SMS messages & make audio calls to any phone, locally or internationally.
Skype can access on computers that run Windows, Linux, and macOS X. The user can also download it on your tablet, smartphone, and Xbox One.
Unfortunately, Skype has temporarily discontinued support for both Apple Watch and Android, but according to Skype Support, that may reinstate soon.
Skype for What?
Calling!
Video calling: Skype application offers free video calling that allows you to have a face-to-face conversation through Skype and a webcam or a compatible mobile device.
Audio calling: These calls are free and can last as long as your heart desires. If the individual you would like to contact doesn't have Skype, you can also pay low rates to call mobile phones and landlines.
With a paid plan, you can also pay low rates to call mobile phones to forward Skype calls to any phone in case you are not on Skype when someone needs to contact.
Conference call: This is great for sharing news with the entire family, hanging out with multiple friends at once, or undertaking related work tasks with a team of colleagues.
Voice mail: set up a voicemail on Skype that will take calls for you when you are busy or aren't using the program. Mush like regular voicemails, you can save or delete them and listen to them at your leisure.
Messaging  
Instant messaging: When you are not feeling up to the regular call, then Skype allows you through the instant message to your friends in similar to other IM services like Facebook Messenger.
Video messaging: If your friends aren't online, but you have a moment you would like to share with them right away, you can choose to record and send them a video message by using the video messaging service within Skype.
SMS texting: This feature lets users send text messages to any mobile device. However, like making audio calls to non-Skype phones, this does cost a bit of money.
Sharing 
Screening sharing: With Skype, you can share your screen with whoever you are calling, making it easy to work on projects together.
File Transfer: Though there are size limits to files and some types of files may require specific software to view appropriately, if your friend has enough storage space then they can access & save files you send them for 30 days.
Contact sharing: Skype makes it super easy to transfer contacts to a friend or family member.
Language Translation: Skype has a voice translator for video calls that currently works in 8 languages, as well as a text translator that's available in more than 50 languages for instant messaging.
It uses machine learning to translate your convos, so the more you use it, the better it gets. Unfortunately, it is a feature available only on devices with Windows.
Skype for Slack: Install the Skype slack app and then type/ Skype into the message input to start a voice or video call.